Toronto! Participate in the Night Economy Review: Licensing & Zoning for Restaurants, Bars, & Entertainment Venues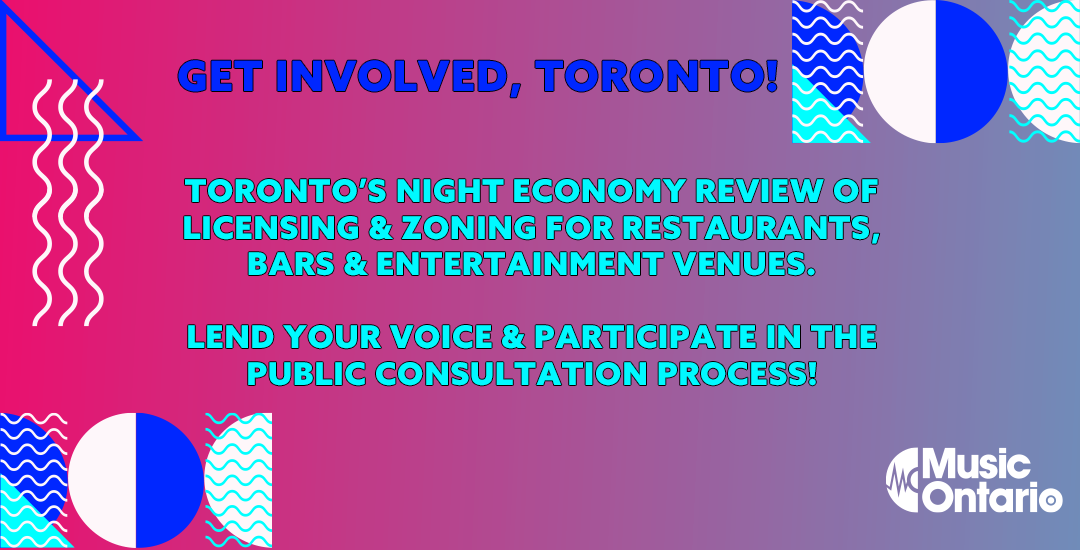 Posted on

March 29, 2023
The City of Toronto is reviewing the licensing and zoning regulations for restaurants, bars, and entertainment venues – including nightclubs and live music venues – and exploring strategies to support and enhance Toronto's Night Economy.
MusicOntario strongly encourages our music community to participate as fully in this process as possible.
Music and culture are the heartbeat of a world-class city, and artists, venues, promoters, and animators deserve a modern and equitable night economy to work in.
Yet, we are facing unprecedented loss of live music venues and spaces amid unchecked development and gentrification, skyrocketing rents, property taxes, and insurance rates, and outdated policies and regulations at both municipal and provincial levels.
The very neighbourhoods and communities that were built and made desirable by arts and culture are being lost to condos, noise complaints, and big box corporate chains.
HOW CAN YOU LEND YOUR VOICE?
The City of Toronto's Night Economy Review includes plenty of opportunity to get engaged, including background information, dates for public consultation (virtual and in-person), and options to provide feedback via survey, and directly by email.
Now's the time to consider what's important to you as a Torontonian in the music sector whose livelihood depends on the night economy.
What changes would you like to see the City consider and work toward?
PUBLIC CONSULTATIONS
Showing support at public consultations is crucial to make sure the music community is heard, and that our considerable contributions to the local economy aren't disregarded or misrepresented by those who would rather see a fast-food joint in place of a live music venue, or those who forget that downtown Toronto a bustling, lively, and animated growing core to be nurtured, not stifled.
Dates:
April 12, 6 – 8 p.m. (Virtual: Register)
April 13, 6 – 8 p.m. (Virtual: Register)
April 17, 6 – 8 p.m. Toronto City Hall, Committee Room 2 (In-person: Register)
COMPLETE THE SURVEY & EMAIL THE CITY OF TORONTO
In addition to attending public consultations, you can have your feedback on the record by completing the Night Economy Review survey, and further, by emailing additional comments, concerns, and questions directly to the city at NightEconomy@toronto.ca
See the City's website for all relevant info, including background information, directives and reports, and more!
THOUGHT STARTERS
How do regulations around hours of operation/last call affect the ability of night economy spaces to engage a wide and diverse range of communities, cultures, and programming?
How does unchecked development and gentrification affect live music and cultural spaces in the night economy? Think of noise complaints, false assumptions about venues and live music, NIMBYism, tearing down of existing cultural spaces, etc.?
How does current zoning affect ability to open new live music spaces in Toronto?
Are there alternative spaces for which the city should work to reduce red tape for to host live music events, pop-ups, etc.?
What are some provincial limitations that the City of Toronto should work to find common ground on?
Have building code requirements been sufficiently modernized on both the municipal and provincial levels to protect live music spaces from new developments?
How can the City help with making the night economy affordable and accessible for patrons? For example, better public transit routes and hours, affordable hospitality, regulations around surge pricing for ride share services, etc.
How can the City support venue operators with rent control, venue protection, against egregious noise complaints, reduced property taxes, etc.?
How can the City work with the province to modernize liquor licenses for live music venues to be flexible and representative of the creative and nimble natures of how live music spaces are used?
How can we engage in a better dialogue with residential neighbours to ensure that we keep our communities peaceful, collaborative, and vital?
Feel free to share your ideas with us directly as well, if you feel more comfortable doing so: emy@music-ontario.ca