MusicOntario and Planet3 Announce The Music Industry Today: Where is the money?! in Niagara!
Posted on

May 27, 2015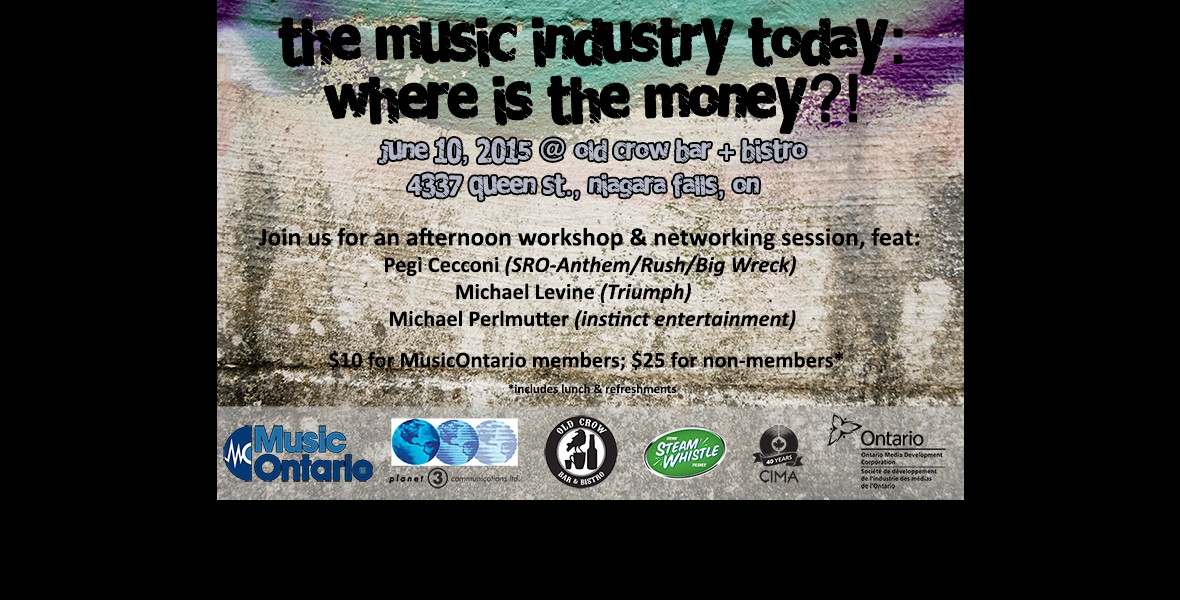 MUSIC ONTARIO and PLANET3 ANNOUNCE
THE MUSIC INDUSTRY TODAY: WHERE IS THE MONEY?!
A ONE-DAY PANEL AND SEMINAR WITH
PEGI CECCONI - SRO-Anthem
MICHAEL LEVINE - Triumph
MICHAEL PERLMUTTER - Instinct Entertainment
PERPETUAL PEACE PROJECT - NIAGARA'S OWN

 WEDNESDAY, JUNE 10, 2015, 1 P.M. - 6 P.M.
OLD CROW BAR & BISTRO, 4337 QUEEN STREET - NIAGARA FALLS, ON.
Doors: 12:45 P.M.
On Wednesday June 10 at the Old Crow Bar & Bistro, 4337 Queen Street in Niagara Falls, MusicOntario and Planet3 Communications, in association with CIMA and the Ontario Media Development Association, are hosting a one-day panel seminar - the music industry today: where is the money?! Tickets are available for $10 for MusicOntario members; $25 for non-members which includes lunch and refreshments and are available at the-music-industry-today-where-is-the-money-tickets.
Attendees can submit songs for a limited time SoundCloud download, to be distributed to "mentors" and made available on the MusicOntario website/SoundCloud page for a set period of time.
Look to any music publication or blog for insight on making a living in the music industry and you will find endless pages of debate surrounding streaming royalty rates, merchandising, album sales, record deals and publishing rights. With the juicy advance a thing of the past, how are artists and their teams establishing financial stability and security? Join us and a few of the best in the biz to explore both the obvious and not-so-obvious revenue sources available to artists, how to approach them and how companies have managed to evolve from the old model to thrive in today's industry, built on constantly shifting tectonic plates!
Rick Fenton, executive director of MusicOntario will be moderator of the panel and Niagara's own Perpetual Peace Project, http://www.perpetualpeaceproject.com will be welcoming them:
- Pegi Cecconi (SRO-Anthem)
web: www.anthementertainmentgroup.com   // twitter: @SROAnthem
- Michael Levine (Triumph)
web: www.triumphmusic.com   // twitter: @triumphforces
- Michael Perlmutter (Instinct Entertainment)
web: www.instinctentertainment.ca // twitter: @instinct_e
Pegi Cecconi
Pegi Cecconi is VP, or more accurately titled to industry folks - the QOFE, at SRO/Anthem, one of Canada's leading full service entertainment firms that is located in Toronto, representing Rush for the last 40 years as well as artists such as Ian Thomas, Max Webster, Gowan, The Tea Party, Steven Page, Big Wreck, and more. Cecconi got her start as an agent booking bands and started working with Ray Danniels in 1973. Along with Danniels, she helped build the model of SRO/ANTHEM "The Original 360″, into the full service firm that handled all aspects of the artists' career - and specifically looked after the independent publishing company and label. Active in the international and national market for over 40 years, Ms. Cecconi draws upon diverse knowledge and experience in the music industry acquired through her involvement in the publishing, legal affairs, touring, merchandising, management, recording and record and video production fields. Ms. Cecconi currently sits on the board of directors for CIMA, CMRRA and IDLA, was a past Chair of FACTOR and was recently honoured with the Music Managers Forum's Brian Chater Pioneer Award.
Michael Levine
Bass guitarist / Keyboardist of Triumph
The Canadian hard-rock power trio Triumph stands out as a visionary, uniquely influential entity among their fellow brethren. Virtuoso musicianship, soaring melodies and exceptional songs with a positive perspective and outstanding live shows made vocalist / guitarist Rik Emmett, bass guitarist / keyboardist Mike Levine and vocalist / drummer Gil Moore destined for stardom. They defined and epitomized arena rock
Michael Perlmutter
Music Supervisor, Producer instinct entertainment
Michael has placed thousands of songs in TV shows, films and documentaries seen and heard around the world. Michael has been working in the music/film/TV industries for 20+ years.  Some TV credits include: Fargo, Degrassi, Beauty and The Beast, Cracked, Haven, Rogue, The LA Complex; Film credits - Arbitrage (Richard Gere), The Colony (Laurence Fishburne), A Beginner's Guide To Endings (Harvey Keitel), All The Wrong Reasons (Corey Monteith). Additional special projects include choosing songs for nightly highlight reels for CTV's Olympic Broadcasts (Vancouver and London) and curating the Canadian Music Café during The Toronto International Film Festival. He has been asked to moderate and speak on panels around the world (Sweden, Miami, Finland, New York, Cannes, Calgary, Halifax, Toronto).
Perpetual Peace Project (PPP)
The PPP started as a platform for an endless musical jam and has since brought together numerous artists and musicians in a spirit of collaboration and spontaneous creation.  It is a project that aims to build off music as the foundation for the way that we relate to each other and to pursue harmony in those relationships. In recognition of our interconnectedness, the U.R. Me and the I Am U. have been created.  U.R.ME are troops of musical and artistic peacemakers.  I Am U. is our place of study, the here and now, this state of being.  Some of the PPP members, Peace Projectors, will be welcoming.
About MusicOntario
MusicOntario is a non-profit, membership-based division of the Canadian Independent Music Association.  Our mission is to provide professional development, industry education, information, services, & support to the music industry in Ontario.
The association delivers programs, services, events and initiatives that assist in nurturing, developing, promoting, and sustaining growth within the provincial music sector. MusicOntario will work to support and develop both the emerging and established independent industry in all markets province-wide.
MusicOntario will also provide leadership in the arena of advocacy & policy as it relates to, or affects members of, the independent music industry within the province of Ontario.
web: www.music-ontario.ca // twitter: @MusicOntario
About Planet3 Communications Ltd
Planet3 Communications has been working with international, national and local clients for over 30 years.  Our strong consultation, and public and media relations are highly recognized with a strong commitment towards Tourism, Arts & Culture and Social Concerns.  The company is based in Niagara Falls and Toronto.
web: www.planet3com.net  // twitter: @Planet3Comm
Please share and thank you for your support!
For further information
Planet3 Communications Ltd. - Joanne Smale
e: info@planet3com.net     t: 289.296.6223 - 416.554.2637
Music Ontario - Emy Stantcheva and Rosalyn Dennett
Contact MusicOntario