MusicOntario Feature Member: Ginger St James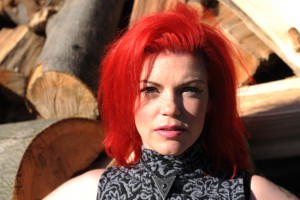 Posted on

June 30, 2015

Tagged as
Hamilton's Ginger St James has been having a good year. After releasing her sophomore album "Diesel & Peas" (2015) she ventured out on a cross-Canada tour, and by the time she landed home in Hamilton, she found out that she had won a Hamilton Music Award for "Female Vocalist of the Year". Her newest video "Beer Bottle Pockets" was our Newsletter Video of the Week June 16, 2015, which you can view by clicking here. We had the pleasure of interviewing Ginger for this feature, please read below, and if you'd like to find out more about her, including music, tour dates and more, please visit her website at www.gingerstjames.com
How long have you lived in Hamilton?
I have lived in and around Hamilton my whole life.  My first apartment was right downtown and it was the nightlife and music scene that inspired to get in the thick of it.
When did you start playing music? What made you decide to pursue music professionally and when?
I began singing when i was a kid. I knew the first time i was on stage that's where i was meant to be, and that was about 15 years ago now.
Tell us about the music scene in Hamilton, and where you fit in to it.
Hamilton's music scene is exciting and diverse. I feel i fit in with everyone because i have so many musical influences and don't want to limit myself to just one genre.
What Ontario landmarks, cities, (people?) have influenced your writing the most?
Definitely rural Ontario has had a huge influence with my songwriting. I love the county side.  Of course touring the province meeting new people and seeing new things is great for fresh ideas. There Is always something more to see when you are on the road.
You recently released your debut full-length album "Diesel & Peas" tell us about your experience in the studio, and what the recording process was like?
I'm so used to performing live I personally find the studio a difficult place to be but once you get in the swing of things it's pretty cool. We did most of it live off the floor, and Snowheel Slim was on producer duty and he got everything sounding great. The band was fabulous and now we have a great full length!
How did you fund your first album?
Scrubbing toilets!  I was a housekeeper at the time.  My mother helped, and our good friend Mark Brewer offered to record us for a very friendly price!
Your latest video for the song "Beer Bottle Pockets"  has a tongue-in-cheek vibe to it that seems to prevail through your songwriting. Where does this edge come from, and who are some artists that have inspired you on this path?
I think i was just born a smart ass. I like to push the envelope a little bit with my lyrics.  I've always been a fan of double entendres. If I had to name someone as an early influence it would be Bernadette Peters or episodes of the Muppet show.
What is one of your favourite spots to play in Ontario? What is one of your favourite spots to play in Hamilton?
This is a toughie! I really like playing in the North. It's so beautiful.  Hamilton has many awesome places to play.  This Ain't Hollywood and The Casbah we've played at many times, but there are always new venues popping up that I haven't even visited yet.  Performing at the Binbrook Fair is another favourite.
Tell us about some of the people on your team.
We have a great team of people working to help us.  Alysha Main (RIdin' High Records) manages me which is such a huge help! We also are working with JMA talent and Spherical Productions for bookings.
How about the folks that play in your band. Are they a permanent part of the act or is it a rotating cast?
We have a mix of both. Snowheel Slim, Andre Telliér and Greg Brisco have been with me since the beginning. I love having new people join us.  Some of the guest musicians we have the band include Justine "The Bass Machine" Fischer who plays for Fred Eaglesmith, Chris Altmann who plays with Tim Hicks, and Rob Foreman who has a band called The Lohrwoods.
Do you listen to music in the tour van? What are some of your favourite van jams?
Buena Vista Social Club, Beastie Boys and The Rolling Stones.
What's your tour life guilty pleasure when it comes to food?
Pizza, beer and corn twists.
What advice would you have for Ontario emerging artists starting out in the music biz?
Give it all you got and don't stop!
For more information about Ginger St James, please visit http://www.gingerstjames.com