MusicOntario @ NOMFA - May 25-27, 2017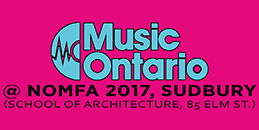 Posted on

May 24, 2017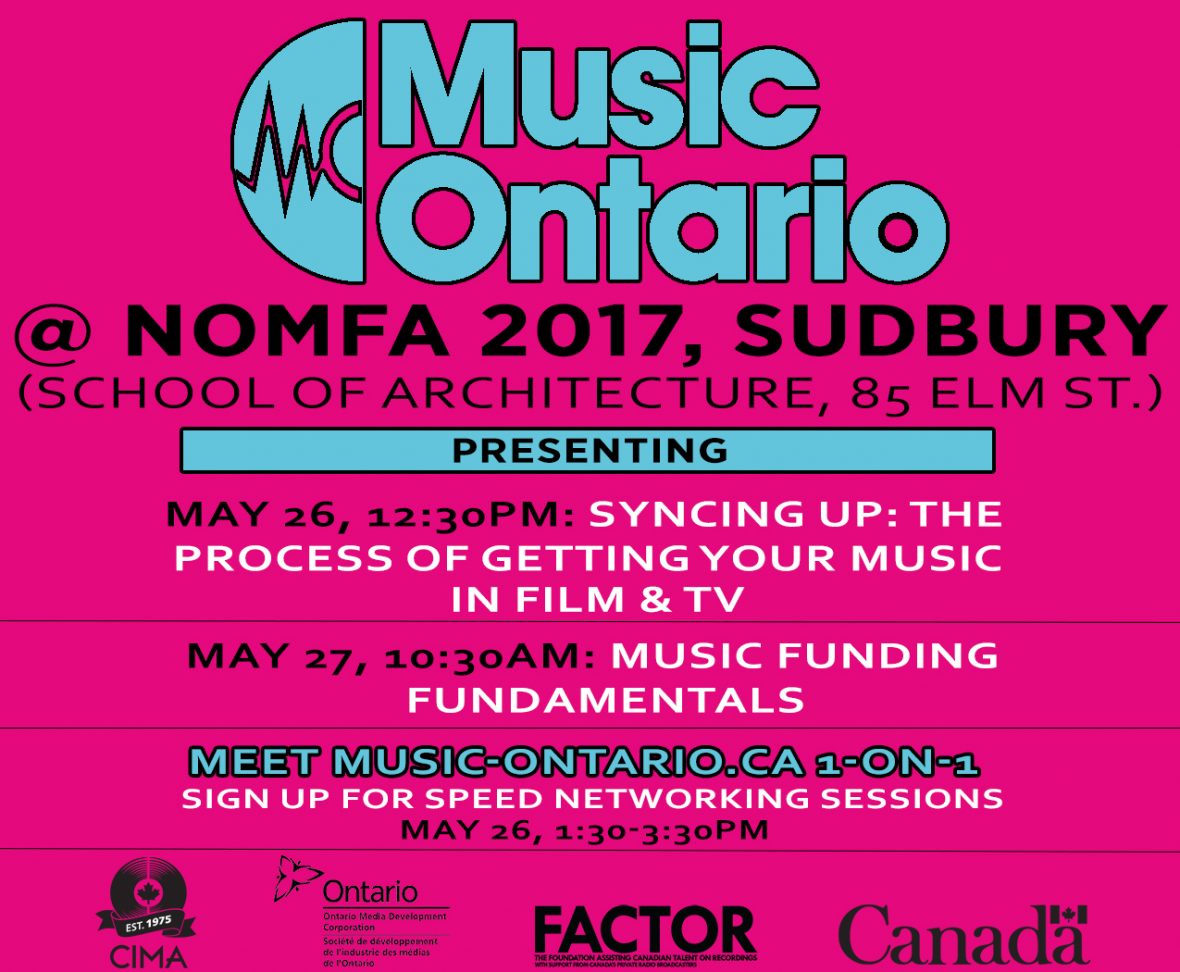 MUSICONTARIO & NOFMA PRESENT
COMMUNITIES CONNECT: SUDBURY
May 25-28, 2017, McEwen School of Architecture (85 Elm St, Sudbury, ON)
MusicOntario Communities Connect
is all about bridging the gaps between Ontario's vibrant music markets! During our Community Development Research Project (CDRP), we asked musicians, artists and industry professionals across the province what types of support and education they hoped to have access to regionally (you can read the full results at
www.music-ontario.ca
). With that in mind, we've tailored this session with NOMFA to cover topics most important to the Sudbury music community!
PANELS & SPEED NETWORKING
Syncing Up: The Process Getting Your Music in Film & TV: Panel -
May 26, 2017, 12:30-1:30 PM
With the recent boom in film and television production in Northern Ontario comes new opportunities to fit Northern music into visual entertainment. This panel follows the step-by-step process that artists, music supervisors, and producers take to place music in film, TV and video games. It will also feature insight into how a music supervisor goes about choosing and modifying a song to fit their project.
PANELISTS



Andreas Rizek – SOCAN Music – Moderator


Amy Eligh – Red Brick Songs/Casablanca Music Publishing


Emily Haffenden – Aporia Records


Kyle Merkley – Arpix Media


Link:
http://bit.ly/2qMEu6B
Full schedule here: http://cionorth.ca/media/cms_page_media/58/2017%20NOMFA%20Schedule_OIiOZOP.pdf
NOMFA Speed Networking: One-on-One Mentoring Sessions - May 26, 2017, 1:30-3:30 PM
Need advice on finding a label from an entertainment lawyer? How about direction on how to gain project funding directly from the funder? This two-hour session will allow you to get valuable face time with industry delegates in a speed-dating format to make pitches and receive personalized advice on your career.
*Open to NOMFA Conference pass-holders only. Signups begin on Friday morning at 10 a.m. at the registration table at the McEwen School of Architecture on a first come, first served basis.
MENTORS



Adam Shamoon – DOC Institute


Amy Eligh – Red Brick Songs/Casablanca Music Publishing


Andreas Rizek – SOCAN


Angela Fex – FACTOR


Ben Donoghue – MANO-RAMO


Byron Pascoe – Edwards Law


Christina Akrong – Ontario Arts Council


Emily Haffenden – Aporia Records


John Galway – Harold Greenberg Fund


Kyle Merkley – ARPIX Media


Mark Watts – Ontario Music Fund


Sam Rayner – MusicOntario


Samantha Everts – YouRockRed


Sheila Hamilton – Unison Benevolent Fund


Link:
http://bit.ly/2rxICsr
Music Funding Fundamentals: NOMFA Panel: May 27: 10:30-11:30 AM
There is an increasing amount of funding available for music projects through grants and loans, though the application process can be extensive and competitive. This panel will cover Canada's numerous funding programs for music-related projects and help attendees understand how to create a strong application and stand out from the competition.
PANELISTS



Angela Fex – The Foundation Assisting Canadian Talent On Recordings (FACTOR)


Lia Kyranis – OMF


Mark Watts – Ontario Music Fund/Ontario Media Development Corporation (OMDC)


Sam Rayner – Canadian Blast / MusicOntario – Moderator


Samantha Everts – YouRockRed


Link:
http://bit.ly/2qdX4Sr