Odario & PopGuru Sound & Vision - MusicOntario Member Spotlight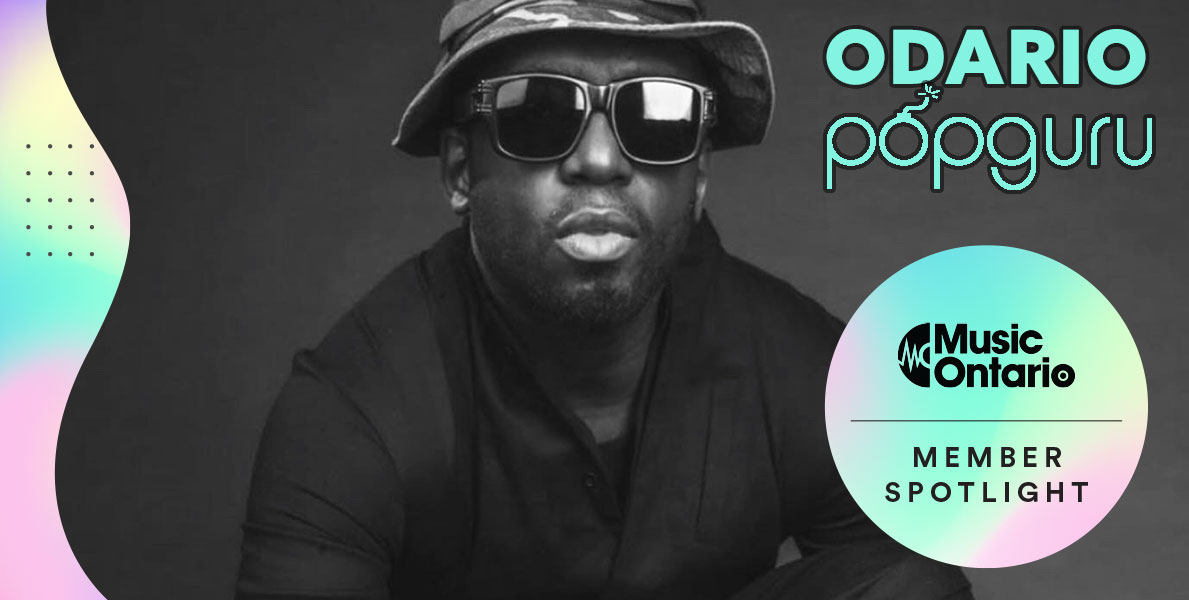 Posted on

June 30, 2020
ODARIO, along with with Grand Analog, and their rep, Graham Stairs of PopGuru Sound & Vision, have been members of MusicOntario for about as long as we've existed! We're stoked to share some info about Odario's upcoming solo project for the first edition of MO's Member Spotlights in 2020!
ABOUT Odario:
Odario is a storyteller, a hip-hop junkie and a lover of many musical soundscapes. He is embedded in the beat and submerged in the bass. His upcoming solo project will express all of these qualities; tackling the many sides of "beat poetry". Odario is known for his work in Grand Analog (as songwriter and frontman). His distinctive voice and insightful lyrics have been part of the Grand Analog sound since their debut album, Calligraffiti, in 2007. As a performer and personality, Odario wears many hats and describes himself as a raconteur, an actor and a DJ. He's currently hosting CBC Music's afterdark program. As a founding member of Grand Analog, he has co-written the songs for three albums, three EPs and several singles; generated over 65 syncs and been nominated for Sync Artist or Songwriter of the Year at the Canadian Sync Awards. Odario has also been featured on a number of other artist's tracks including A Tribe Called Red single Ba Na Na with Haviah Mighty. He recently released his debut solo single, Low Light (In This Space), and opened for Bedouin Soundclash on their cross-Canada tour. Odario will be dropping a new single on July 24th called Hot Hot Heat.

A BIT MORE ABOUT THE NEW PROJECT...
What is the release date for, and any other key info about the solo project?

Hot Hot Heat single release date: July 24, 2020. Good Morning Hunter EP release date: September 25, 2020. Label: Do Right Music.

Some highlights and challenges from the process?
I'm happy to be working with my long-time friend and producer Todor Kobakov who is also a master composer. We are making magic together and letting only the light come inside for a visit. This is definitely the most cohesive project I've worked on. Because it's being defined (and written in a sense) by the challenging times we are living in. It's a beautiful struggle in a sense because we are all included in the world changing. The beauty in the struggle is squeezing positivity out of dark places; knowing, believing that we're all gonna be alright. Having said that, I want this music to be played on blast as you're groovin' on cruise control, looking back at 2020. While writing these songs, I've set imaginary bonfires to write in front of... and set a few good intentions.

Anything else you want the world to know about this work?

As a writer, I've definitely been shaken out of my comfort zone. Having recently moved to a new home just prior to the world shutting down, it was difficult to find a safe place mentally in order to write. I was always slightly uneasy and out of sorts because my comfortable ground no longer existed. Thankfully, I decided to use that unfamiliarity in a positive approach... which is not an easy task. I wanted everything I did to be something I've never done before. Now... I have no idea who I am... it's great!
Stay up to date on all things Odario & PopGuru!
https://twitter.com/odariowilliams
https://www.instagram.com/Odario/
https://www.facebook.com/odariomusic
If you're a MusicOntario member, get in touch with Sam Rayner to find out how to apply to be featured!