Emily Rockarts & Stump Media - MusicOntario Member Spotlight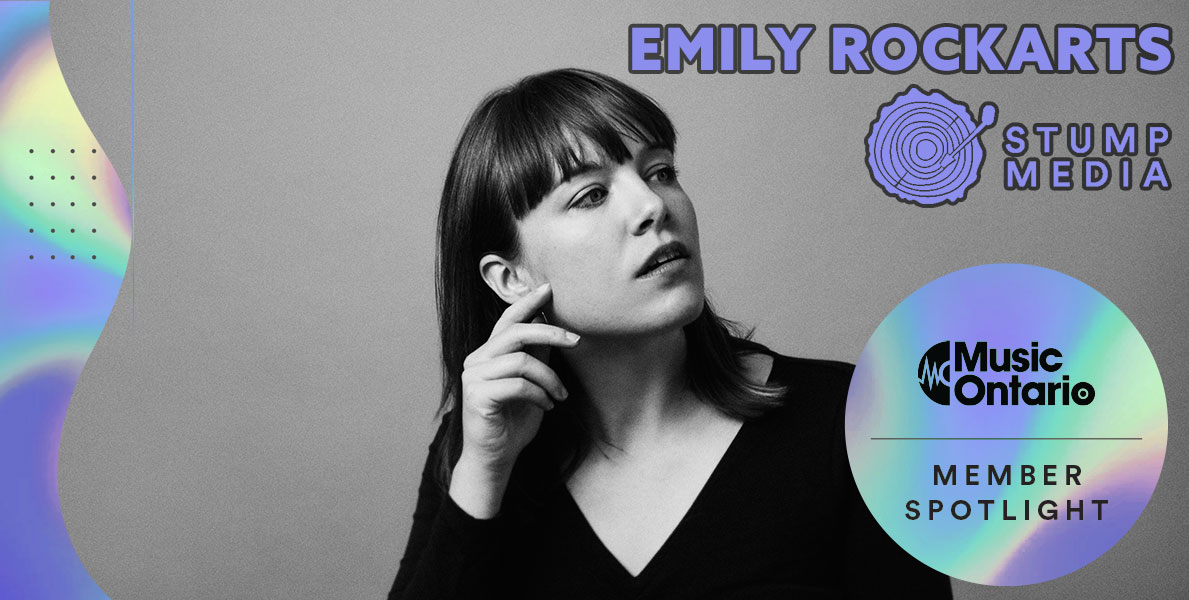 Posted on

July 7, 2020
EMILY ROCKARTS and her reps at STUMP MEDIA have been MO members for a few years now, each participating in excellent events like Folk Alliance International and Folk Music Ontario, to name a couple. It's been a joy to watch Emily and her team work toward this debut record!
ABOUT EMILY ROCKARTS:
Indie singer-songwriter Emily Rockarts' Little Flower is bursting with sonic easter eggs. Poised, polished, poppy and endearing, it's hard to believe it's a debut album. Rockarts, a self-confessed extroverted introvert, is a cool and comfortable, sharp-eyed observer much like the wallflower in Little Flower's lilting title track. Little Flower is available now on digital, vinyl and CD.
"Little Flower glows from the inside out...a debut worth hearing" - Exclaim!
"LITTLE FLOWER is something of a puzzle box...a true sonic journey that really does make you want to see the puzzle come together once again." - Merry Go Round Magazine

A BIT MORE ABOUT THE NEW PROJECT…
Working with my band, and with producer Franky Rousseau, and engineer Shae Brossard, was such a great experience. It's always so cool to see how songs evolve from being played alone on my piano at home, to bringing them to the band who brings their own sounds and influences to the tracks, and then how the production elevates it again into something I never could have imagined on my own. Collaboration is the most exciting part about making records for me. We all put so much into the songs over the course of a year, and created something that I'm really proud of.
It was also amazing to work with director BrittPaperScissors (Brittany Farhat) on the music video for "Stay". The colourful video features me at home, preparing for a party that no one shows up for. I was really nervous going into the shoot because I'd never been in front of a camera before, but Britt's vision, skill, and energy along with her incredible team made it such a wonderful experience.
Check out the "Stay" music video, directed by BrittPaperScissors, and Filmed in Toronto, ON, below:

ANYTHING ELSE YOU'D LIKE TO INCLUDE?

Released April 24, Little Flower is an exciting Toronto-Montreal-New York cross-pollination by a tight-knit band that works together long distance. Emily and guitarist Dan Rougeau are based in Montreal, while bassist Soren Nissen and drummer Ian Wright remain in Toronto. Produced by Brooklyn-based, Montreal-bred Franky Rousseau, beds were recorded at Montreal's Hotel2Tango with home-recorded overdubs by Rockarts and Rougeau in Montreal and Rousseau in Brooklyn. Brooklyn-based composer and pianist Dominic Mekky played piano and contributed sound design and arrangements for "Margaret" and "Golden Hour," while Matt Rousseau played synthesizer on "Vistas." NYC-based multi-instrumentalist Levon Henry's clarinet and sax take the breezy "Right Now" into Andy Shauf territory.
#TheShowMustBePaused was just over a month ago. Keep active in your community, keep reading, keep learning. Black Lives Matter.
ABOUT STUMP MEDIA:
STUMP Media is a female-owned & operated music company based in Ontario, that supports artists through its management, label, digital marketing, and development services. Some of the artists we have worked with include Emily Rockarts, Union Duke, and The Keith Glass Band.
Stay up to date on all things Emily Rockarts & Stump Media!

If you're a MusicOntario member, get in touch with Sam Rayner to find out how to apply to be featured!