Jack Pine + The Fire - MusicOntario Member Spotlight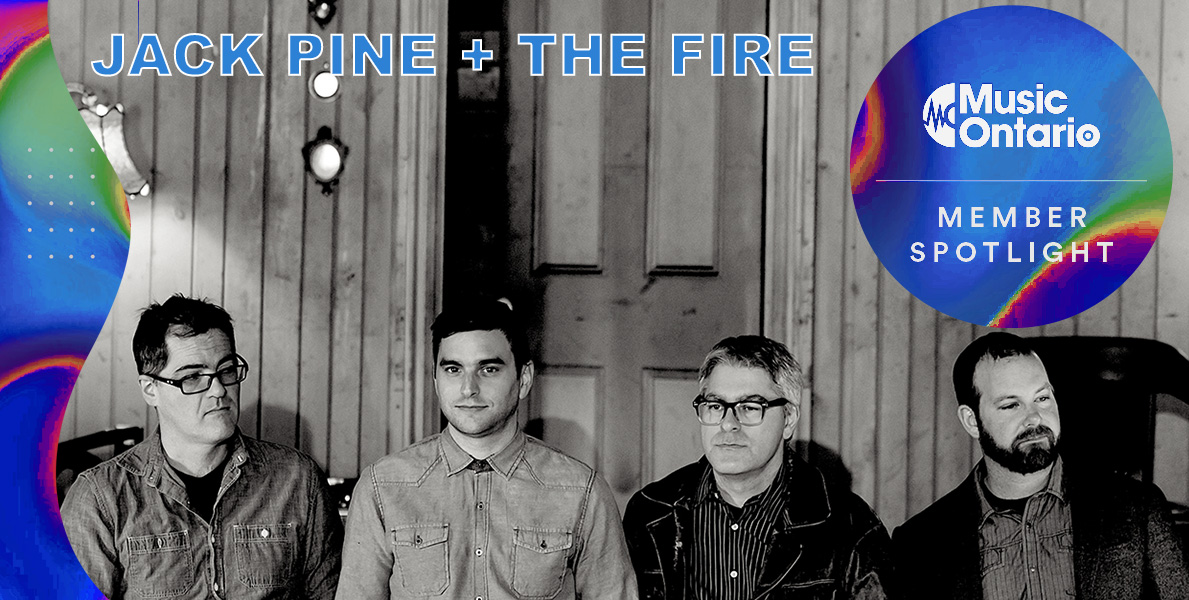 Posted on

July 14, 2020
MusicOntario has had the pleasure of hosting Jack Pine & the Fire's absolutely electric performances at festivals/conferences like Folk Alliance International, MEGAPHONO, and Folk Music Ontario. A hardworking band of immaculate pros, we're excited to share their new single and video with you: Rich in Time!
ABOUT JACK PINE & THE FIRE:
Jack Pine sings of lost souls and forgotten truths. Dark humour, cryptic wisdom, and biting social commentary pepper his words, illustrating the eclectic rhythms of a gritty, groovy alt-folk-Canadiana style. Behind him is The Fire, a "dynamic" and "masterful" string band with heavy right hands, haunting harmonies, and all the feels. Jack Pine hollers and howls like a lone wolf, spitting wry words and tall tales, strumming his mandolin furiously then softly while The Fire beats their acoustic string-band roots into the ground.
Nominated at the JUNO Awards and the Canadian Folk Music Awards, Jack Pine and The Fire's 2017 Sophomore album Left To Our Own Devices explores all our relationships - with ourselves, with each other, and with the earth. But their 2020 single Rich In Time showcases the lighter side of Jack Pine and the whole idea of "work"… From the sounds of it, he may never work again.

A BIT MORE ABOUT THE NEW PROJECT…
Release date for, and any other key info about the single and video?
"Rich In Time" is the newest single and it was released during quarantine on April 27th, 2020. The video was created pre-social-distancing by Aylmer, QC moviemaker Alain Ouellette, also responsible for Jack Pine and The Fire's previous "Moustache is King" and "The Only Thing" videos. It stars Jack Pine himself as as a slacker on the job, along with his bandmates Martin Newman, Stuart Rutherford, and Mike Essoudry, as well as singer-actress DeeDee Butters of Ottawa Pop-Icons The Peptides.
::STREAM RICH IN TIME::
JackPineFire https://bit.ly/2Ky8jkd
Soundcloud https://bit.ly/richintimeSC
Bandcamp https://bit.ly/richintimeBC
Spotify https://spoti.fi/2xNwDfs
Apple https://apple.co/2Y1xGmz
Deezer https://bit.ly/2VwXBRw
itunes https://bit.ly/2Ky8jkd
Napster https://bit.ly/RITnapster
Tidal https://bit.ly/RITtidal
Amazon https://amzn.to/2A30zEV
What are some highlights and challenges from the process?
We had a really fun time making this video. We shot the party scene in Wakefield, QC across from Kaffe 1870 where I was to play later that night. I had a whole bunch of people lined up to be in the crowd for the video but it was actually really cold that week and of course the set up ran late, so our small-town crowd didn't stick around long enough. Instead I ran across the street, hopped on the mic at the venue, and cajoled a full bar of patrons to leave their drinks and come party with us… everyone had a time and it worked out great! Stuffing 4 guys into the front seat of a cube van was fun too.
The challenge is obviously in the timing of the release which was initially set right after quarantine began in the first week of April. The single was ready and the video was close, but the point of the new single was to create a buzz for a busy summer tour schedule. The silver lining was that we no longer felt any rush in putting the final touches on the video and release details because everything else was at a standstill anyway. So we pushed the release by a couple of weeks and launched it with a "fans-only" live-stream event. The video too was delayed by problems accessing an editing suite and was finished just as #BlackLivesMatter protests and #theshowmustbepaused were at their peak. so we again chose to delay its release and ultimately toned down our social media messaging to leave space for the extremely important civil rights messages. Ultimately, the release needed to happen, but the west has a lot of work and learning to do if any change is going to [finally] happen and we really didn't want to be in the way.
Was there a particular inspiration for the new song?
As an independent artist I sometimes wonder if life would be easier if I just had a normal job with a boss in an organization that isn't driven entirely by me… The concept of a predicable paycheque is almost mind-blowing. So the band had received our first national nomination at the CFMAs and I was charging flights to a fresh line of credit to get us to Calgary for the awards. I hadn't booked enough gigs for the fall so I was left tight for money and newly indebted with plenty of free time to think about it.. I became saturated with self doubt and wondered if it was all worth it. So I wrote "Rich In Time" to say decisively that it was indeed worth it. The song is at once an acknowledgement of my occasional self-doubt and an assertion that "I do what I love! I'm going to be just fine!" Because sometimes I need to be reminded and I figured I'm probably not the only one.
ANYTHING ELSE YOU'D LIKE TO INCLUDE?
Jack Pine has also been doing a weird little performance video project that I've called "Awake Before The World". I get up at dawn each Monday morning and play one of my songs as quietly as I possibly can with my first breaths of the week while the sun rises… I just don't wake the house! I'm not at all a morning person and the first one I did was as a fun promo for the "Rich In Time" release. Now I'm up to 11 of these quirky and super-intimate quasi-ASMR whisper videos on the Jack Pine instagram (instagram.com/jackpinefire). I have some other video series concepts in mind and plan to keep releasing new performance videos on a weekly schedule for the remainder of this cursed year. Care to follow along?

::JACK PINE ONLINE::
Website http://www.jackpinefire.com
Facebook https://facebook.com/jackpinefire
Instagram https://instagram.com/jackpinefire
Twitter http://twitter.com/jackpinefire
Youtube http://youtube.com/jackpineifre
Bandcamp http://jackpinefire.bandcamp.com
Soundcloud http://soundcloud.com/jackpinefire
Spotify https://bit.ly/JPATFspotify
Amazon https://bit.ly/JPATFamazon
Apple Music https://bit.ly/JPATFapple
Google Music https://bit.ly/JPATFgoogle
Napster https://bit.ly/JPATFnapster
If you're a MusicOntario member, get in touch with Sam Rayner to find out how to apply to be featured!