Troy Junker - MusicOntario Member Spotlight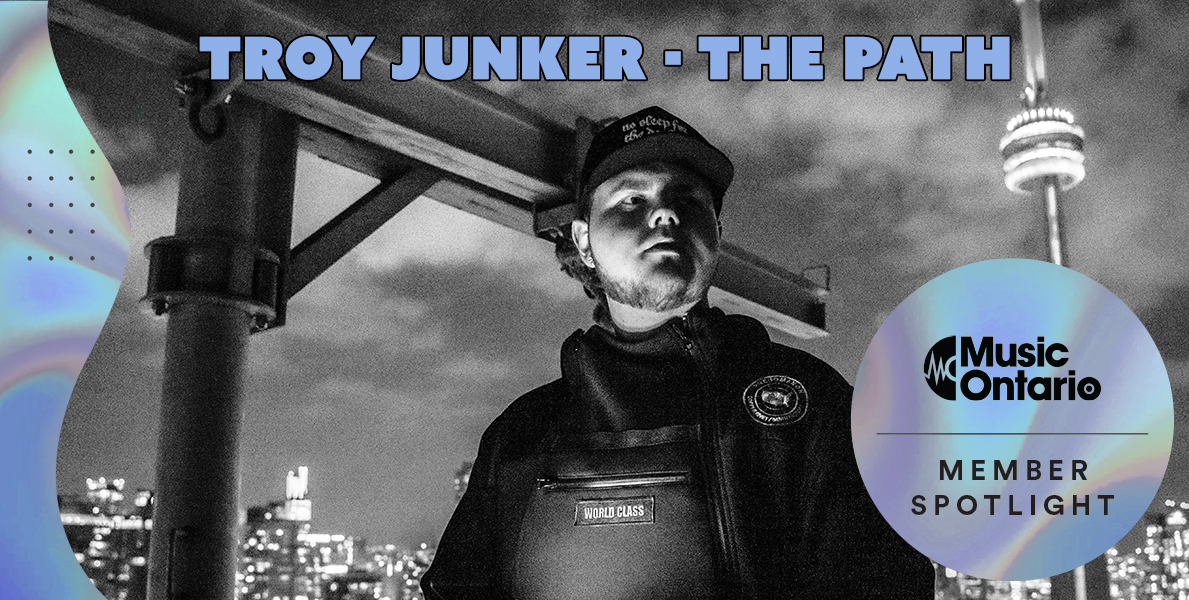 Posted on

July 21, 2020
We first met Troy as a participant of MusicOntario's 2019 Canadian Songwriter Challenge, where he and fellow participants Julian Taylor, Thea May, and Mya Gomez formed a collective called The Wolf Den, and released one of the songs they co-wrote during CSC 2019, "So Close." While Troy continue to collaborate with the Wolf Den on new music, including a new track with producer Adrian X, he's also pursuing his solo work with his new EP, "The Path," out this very week!
ABOUT TROY JUNKER:
Troy Junker is a hip-hop artist; who by looks you wouldn't expect what you'll get. A high school dropout - turned Uranium miner, who picked up and moved from Saskatchewan to Toronto to pursue music and follow his dreams. Throughout his career he's appeared on tracks with Belly and Joey Stylez and graduated from a Music Business Management course at Durham College. When it comes to lyrical flow, Junker shape shifts between theme and tone delivering tracks with thoughtful message to bangers for the trunk.
A BIT MORE ABOUT THE NEW PROJECT…
The main focus on the project was to create tracks that my younger listeners could take positive messages away with them. I know how it feels to be lost and I wanted to create a body of work that shows that sometimes you need to create your own path to go where you want to be. It's my first studio project since moving to Toronto and being independent, it was nice to have creative control while collaborating with my friends (Joey Stylez, Thea May, LUVR and Larisa Santiago) and have production from a few producers I dig (MyBestFriendJacob, Big Joe, LUVR, JR Hitmaker & Harmon1x).
For the artwork, I wanted the cover to resemble where I come from and that's Prince Albert, Saskatchewan. I don't get to go home much anymore because I'm living in Toronto but I wanted the artwork for, The Path to represent where my path started out. I wanted it to feel like I was in PA, which is the last city before all the Northern communities. When you're there, the Northern lights is something you see regularly and now that I'm in Toronto, I dont see it at all.
Release date for, and any other key info about the project?
The Path - July 20, 2020: https://foundation-media.ffm.to/thepath

Any highlights and challenges from the process?:
One of the biggest highlights for me was being able to have David Ariza record and mix The Path and have Phil Demetro do the mastering. I've always been recording and mixing/mastering myself and I felt for this project, I needed to break the plateu. I wanted to work with someone who will bring better performances out of me and have a sound team who would really hone in on where they shine. It was a great decision because along the way, I learned so much.
My biggest challenge was managing people and scheduling sessions but it's nothing I couldn't handle. On Waves, we had the track finished and some really bad computer issues happened and we lost the track without a backup. It's okay though because when we re-recorded, it turned out much better.
Anything else you want the world to know about this work?
I'd like to give a big shout-out to everybody involved on the project and a big thank you to the Ontario Arts Council for their support!
ANYTHING ELSE YOU'D LIKE TO INCLUDE?
4U (Focus Track) Music Video from The Path:
The Juice (Clean) on YouTube:
Instagram |Spotify |YouTube |Facebook |Apple Music

If you're a MusicOntario member, get in touch with Sam Rayner to find out how to apply to be featured!