VËR - MusicOntario Member Spotlight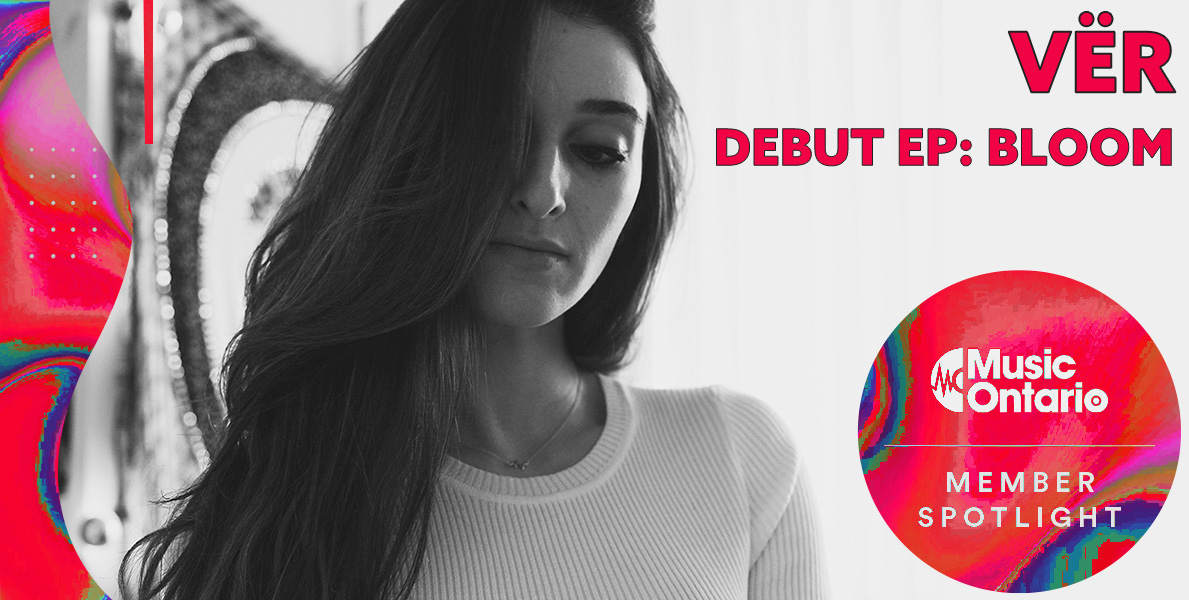 Posted on

August 4, 2020
VËR may be pretty new to the MusicOntario family, having joined in 2019 as student, but this incredibly soulful, dreamy, zen-pop DIY performer has a bright career in music to complement her Architecture degree. Working mostly out of her home studio, VËR's upcoming debut EP, "Bloom," will soothe and entice all at once.
ABOUT VËR:
VËR (short for Vered, the Hebrew word meaning 'Rose') is a 27year-old Canadian-Israeli singer, songwriter and producer. Her musical identity is drawn from her middle-eastern roots, mixed with contemporary influences like Charlotte Cardin, Snoh Aalegra & Daniel Caesar, with the soulful inspiration of Amy Winehouse, Norah Jones & Ms. Lauryn Hill.
VËR creates out of her DIY home studio. With a degree in Architecture and having worked in the music industry for a number of years, VËR's worlds blend together through the passion for the creative process, performance and connecting with others through art. Her intimate, moody and smooth vocals draw the listener in close, transporting them into her zen world of lite-rnb x chill-pop.
A BIT MORE ABOUT THE NEW PROJECT…

Tell us a about your debut EP and its upcoming release!
My debut EP 'Bloom' is set to be released September 25th 2020. The musical framework for this project brought itself to life in 1 week (and took over 1 year to put it all together!) The themes of love, isolation, fleeting time, beginnings & endings, all came to surface in the same stream of creativity - and so they live together under the title 'Bloom'. This EP project embodies the idea of process & cycles; the beauty and rawness of emotion and the fragility of time and growth.
What are some of the highlights and challenges from the process of creating and recording this EP?
The project was an exercise in letting go of chasing 'perfection', focusing on simplifying and not overthinking. Those are always the most challenging elements when I create demos. When putting an EP together independently and creating the music out of your own apartment, there are always challenges thrown my way - from having to do retake after retake because of background/street noises, dealing with my OCD when recording/comping vocals and of course remembering to step away from the project from time to time to get 'fresh ears'. The highlights are the moments when I get to collaborate with other professionals (producers x mixing/mastering engineers). This DIY EP was pretty isolating/independent up until Dante/ SLWJMZ / Josh Bowman / Phil Demetro got involved. I really love collaborations and seeing what magic can emerge. They each brought their talents to the forefront, helping my vision of this project come to life.
Anything else you want the world to know about this work and your musical journey?
Just their feedback once it's live! Follow along on your favorite streaming platform and the best way to connect with me personally is on instagram (@thisisver).

Check out the music video I made the first month of quarantine using my iPhone for the EP's single, 'Best For You (feat. Dante):
DIY music video for my second song off the EP 'Ocean': (all shot on iphone!)
https://www.instagram.com/tv/CCokb2hj380/?utm_source=ig_web_copy_link
Website: www.thisisver.com
IG: https://www.instagram.com/thisisver/
FB: www.facebook.com/thisisver
If you're reading this, I'd love to connect with you! Reach out! xx V
If you're a MusicOntario member, get in touch with Sam Rayner to find out how to apply to be featured!