I.V. - MusicOntario Member Spotlight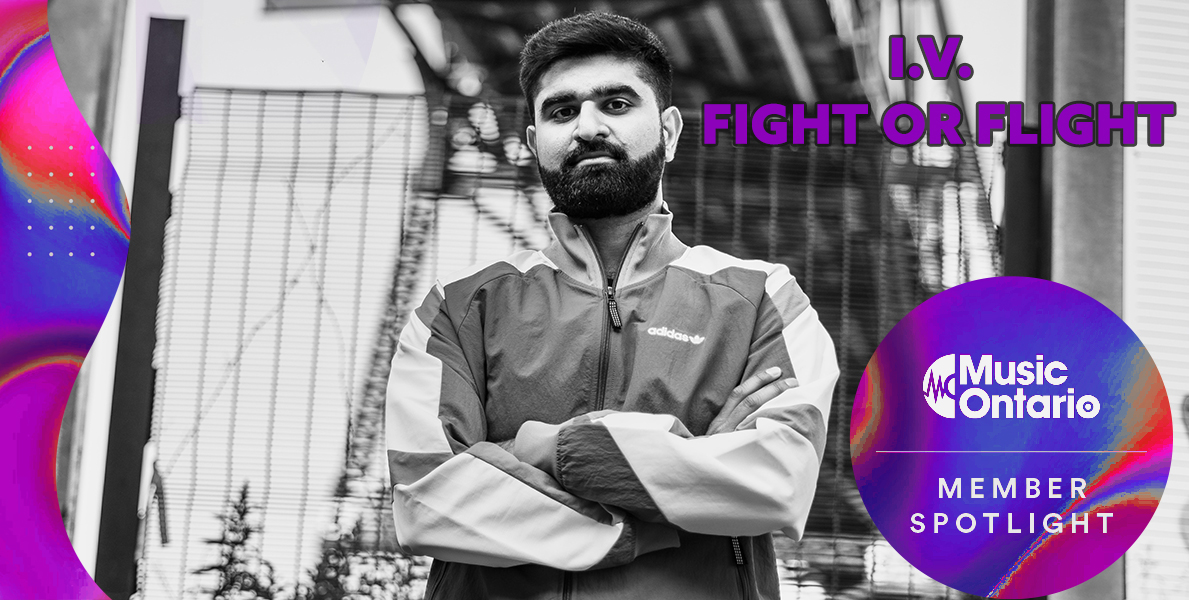 Posted on

August 11, 2020
Up and coming Toronto rapper I.V. has been honing his poetic dexterity since childhood, and his latest release is the culmination of that dedication to the craft. "Fight or Flight" showcases deft lyricism over killer production by his collaborator, Crimsen. Learn more about this October 2020 release below!
ABOUT I.V.:
With virtuosic lyrical abilities and a natural gift for storytelling, Toronto rapper I.V. is redefining what it means to be a modern hip-hop artist. His clean delivery of complex bars and intricate rhyme schemes make him a worthy torchbearer for the hip-hop tradition, as he evokes the great lyricists of the 90's to deliver a message that is hand crafted for the modern world.
Born in Edmonton, I.V. first began writing his own rhymes when he was thirteen years old, finding solace in the act of putting his feelings into words. What started as a hobby quickly turned into an obsession when he relocated to the hip-hop Mecca of Toronto. He found overwhelming inspiration in the city's diverse population and wealth of talent, and became determined to add his name to Toronto's long list of great artists.
After releasing four well received singles since 2020, I.V is currently working on his debut project, Fight or Flight. The project's seven tracks showcase I.V.'s lyrical prowess over a stylistically diverse set of beats, proving that I.V. is an artist all hip-hop fans should watch out for.
A BIT MORE ABOUT THE PROJECT…
The newest project "Fight or Flight" by Toronto emcee I.V. is set to hit digital streaming platforms October 2020. The debut consists of seven tracks produced by I.V's college friend-turned producer Crimsen, a Tech House mogul who explores the realm of hip-hop with the Toronto lyricist.
"While we love the different branches of hip-hop that have evolved over the past decade, we've always been nostalgic for the boom-bap beats that raised us," says Crimsen. "We wanted to make sure the drums hit hard and on point with each song, while different grooves and melodies carry the array of feelings I.V. needed to express on the album."
After three years of collaboration, the project will finally be released, allowing the public to engage with I.V.'s journey as an artist while providing insight into realms of his childhood, relationships, and hopeful outlooks on life.
"Fight or Flight was about me trying to understand myself as a person. I needed to take a step back and get an objective look at my problems, the way I reacted to them, and how that was effecting my health, success and happiness in life," I.V. quotes. After taking this journey of honest self-reflection, the artist found confidence, hope and courage to heal important relationships, cut off toxic influences, and find meaning in building up the community that shaped him.
"What you choose to let go of, and what you choose to give your energy to. This is what defines us as people. This is what gives our lives meaning. Fight or Flight embodies my struggles of not knowing how to choose. But no doubt, I got a hell of a lot better after making this album."
Fight or Flight streaming everywhere October 2020. Follow I.V. on YouTube, Spotify, Facebook and Instagram to stay updated on the release.

"Sinister" - Single from upcoming project "Fight or Flight"
KEEP UP WITH I.V. ONLINE!
Official Website: https://idotvdot.com/
Spotify: https://open.spotify.com/artist/68j1rYRBSeofBHl01aqART?si=3gYgB-QnTrKMoTSEd7l_pg
Facebook: https://www.facebook.com/idotvdot/
Instagram: https://www.instagram.com/idotvdot/

If you're a MusicOntario member, get in touch with Sam Rayner to find out how to apply to be featured!