The Hope State - "Burn or Bloom" - MusicOntario Member Spotlight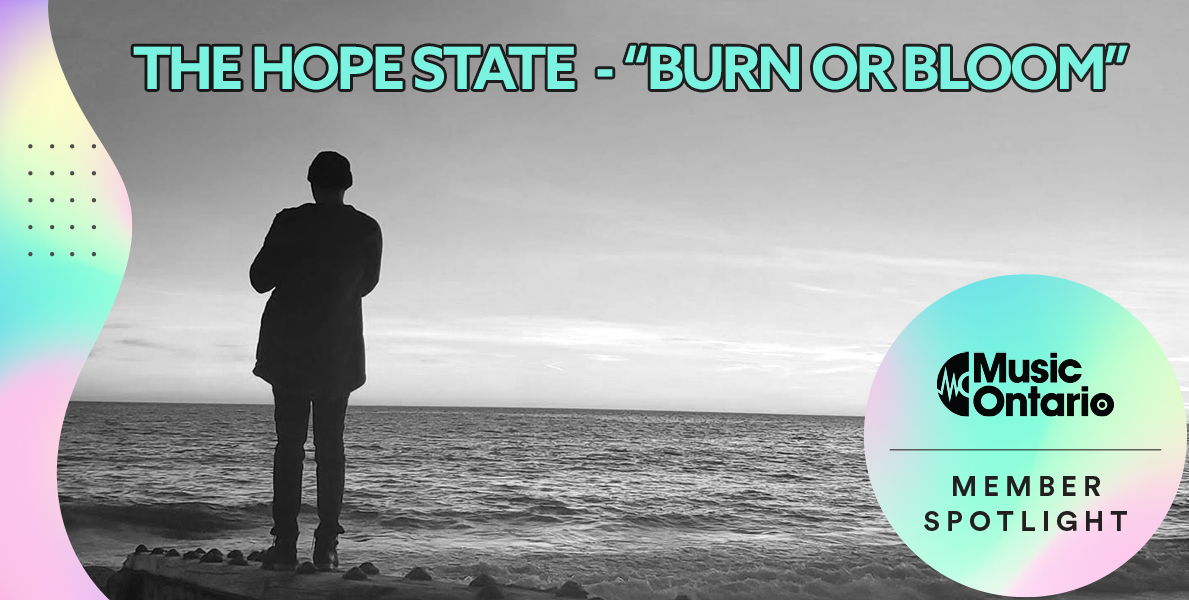 Posted on

October 20, 2020
"Burn or Bloom" is more than The Hope State's final EP; it's a demonstration of community, friendship, and, well, hope. When Toronto-via-Saskatoon musician Taylor Johnson passed away unexpectedly in May 2020, a group of his many music industry peers and friends came together in grief with his family to ensure that the prolific songwriter's vision for this batch of songs came to fruition. Read on to learn more, and head to www.instagram.com/burnorbloom/ to hear and see some of your local favourites cover each track from the record.
ABOUT THE HOPE STATE:
Spending his formative years in the prairies of Saskatchewan where he cut his teeth writing songs and performing in various indie rock bands, Taylor relocated to L.A. at the age of 18 where he studied music business and began writing songs professionally for leading songwriters and artists in pop, country, hip hop and rock, which topped the charts in territories around the world. Although always thankful to be continuously working in the music industry, Taylor felt a large part of his artistic freedom and general happiness were being compromised working as a ghost writer. A longing for writing more personal, meaningful songs and performing said songs was ever present. After battling with the decision to stay employed, or work on his own material, Taylor ultimately took the leap and left to pursue what he knew made him the happiest. With that, he began writing and performing as The Hope State.

A BIT MORE ABOUT THE FEATURED PROJECT/HIGHLIGHT…
October 14th, on what would have been his 33rd birthday, the life and music of Toronto indie-rock artist, Taylor Johnson – aka The Hope State – was celebrated with the release of his posthumous album, Burn or Bloom. Honest and heartbreaking with a silver lining of hope, the new album deals with universal themes of struggle, depression, anxiety, addiction, regret and loss, as well as the ever-important love and hope.
Comprised of six new songs, Burn or Bloom was recorded in Toronto with Producer/Engineer, Dajaun Martineau (Moist, Cancer Bats, Havelin). The album was completed earlier this year, just before Taylor's sudden passing in May, due to an undiagnosed health condition. "Taylor walked into this record with a set of songs that immediately resonated with me leaving little to no editing needed," reflects Martineau. "This worked out great in the studio because he also had a very unique sonic vision. From day one of pre-production, he knew exactly how he wanted to tell his stories and had a pretty good idea of how he wanted them to sound. That's not to say this wasn't a collaborative effort, once the foundation was laid, we had the most fun really diving into creating the sounds he heard in his head, mixing different instruments/synths and elements together, trying different techniques and working with a great cast of musicians. I am really proud of the work that we did together, and I am thankful he was able to see the record all the way to completion before he passed. He was a true artist and this record was exactly the one he wanted to make."
"We knew that this album had to be heard," says Jordan Howard, who along with Dan Hand, Ryan Murray, Dajaun Martineau, and working closely with Taylor's family, helped spearhead the project. "We had all worked closely with Taylor and had spoken with him at length for so long about his dream for this album that we felt like we had to find some way to honor his plan, his music, and his life"
"Every step of this release plan was carefully taken with Taylors creative and personal vision in mind," says Dan Hand.
As per Taylor's original plan, the team hired Amanda McCauley at Indoor Recess to work PR and turned over the creative direction for the Austin video to director Teaunna Gray, a friend of Taylor's whom he had wanted to work with from day one.
In addition to the original release plan, and in celebration of the EP and Taylor's music, fellow artists and friends came together the week of Burn or Bloom's release to cover each of the songs from tracklisting, and posting their tribute videos on Instagram. Members of The Strumbellas, Jeremie Albino, The Balconies, Whale and The Wolf, Laurent Bourque, and David Newberry all shared their renditions of the new music and talked about how much Taylor meant to them and the music community as a whole.
For all information and to learn more, follow @burnorbloom.
Official Video For Austin, Directed By Teaunna Gray:
Stream the EP on your chosen platform: https://backl.ink/143117982

If you're a MusicOntario member, get in touch with Sam Rayner to find out how to apply to be featured!