Denim Blù - MusicOntario Member Spotlight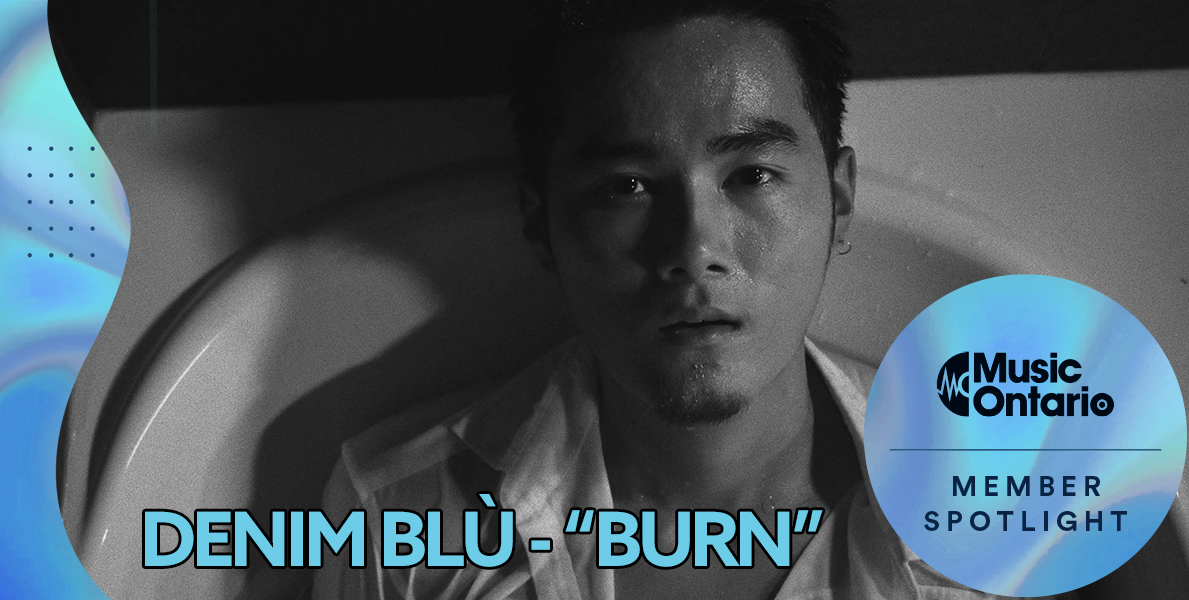 Posted on

November 2, 2020
New to the MusicOntario family, Denim Blù is the vibey, singable pop we all need right now. Undeniably catchy, the latest track, "Burn" has a gritty edge to its polished veneer - the kind that once upon a time would have you dancing through your kitchen as you got ready to hit the town for the evening; the eye of the storm of love lost and a thirst for the next adventure. Crank this one to shimmy and boogie away weekends in quarantine!

ABOUT DENIM BLÙ:
Denim Blù is an emerging Toronto-based singer-songwriter whose identity and music reflect the cultural mosaic that makes Toronto's music so universally-appealing. He's a Chinese-born queer artist whose inspiration is borne out of rebellion. He's not supposed to be Chinese and making pop music; he's not supposed to be gay; he's not supposed to emote sex. Well, he does. His music training and influence spans three continents having studied and composed music in China, the UK, and Toronto. The product is pure pop fantasy with emotional intrigue, drawing from blues, dance, electronica, and R&B elements, all while being unapologetically queer. When you listen to Denim Blù, you hear sonic sentiments of Robyn, Christina Aguilera, and Charlie Puth with the lyrical quality of Florence and the Machine and Paloma Faith. Together, his music delivers new-age pop with a story to tell.
A BIT MORE ABOUT THE FEATURED PROJECT/HIGHLIGHT…
The project I want to talk about is my upcoming album, Blue. The album is a project from my Master's Program, Music Technology and Digital Media, through the University of Toronto. In creating this album, I discovered what it meant to be Denim Blù, the artist.
This album is a celebration of Toronto's cultural diversity: the album is queer and the album is ethnically-diverse. The artist/producer of the album is a Chinese-Asian making Western, contemporary pop music; the artists featured on the album are a mix of different genders, cultural backgrounds and sexualities with the songs empowering the freedom of love. Therefore, the album itself is the embodiment of Toronto.
Blue is a tale of love and heartbreak through expressive lyrics and poetry; it is a dizzying array of contemporary songs; it captures youthful love, volatile love, and queer love. With Blue, I have poured my heart and soul into creating something by and for queer people, but with universal appeal.
The first single from the album, Burn, was released on October 30th. Burn hurts; Burn is a lament; it's an admission of messing up in a relationship and coming to terms that something great is gone. The melody and lyrics are in the vein of Charlie Puth and its production draws inspiration from the infectiousness of Robyn's Dancing On My Own.
Since its release, Burn has garnered attention from Culture Fix UK, the Q Reviews, Popbulb Magazine, and Amplify Magazine.
"...we know it hurts to get burned, but Denim Blù is giving it to us so smooth that we kinda like the pain." - Popbulb Magazine

"Denim is climbing into the front seat of the dark pop electro R'nB world to give us a release heavily inspired by emotion and regret, but ultimately one of self realization." - Q Reviews

If you're a MusicOntario member, get in touch with Sam Rayner to find out how to apply to be featured!