Tennyson King's "Garden of Truth" - MusicOntario Member Spotlight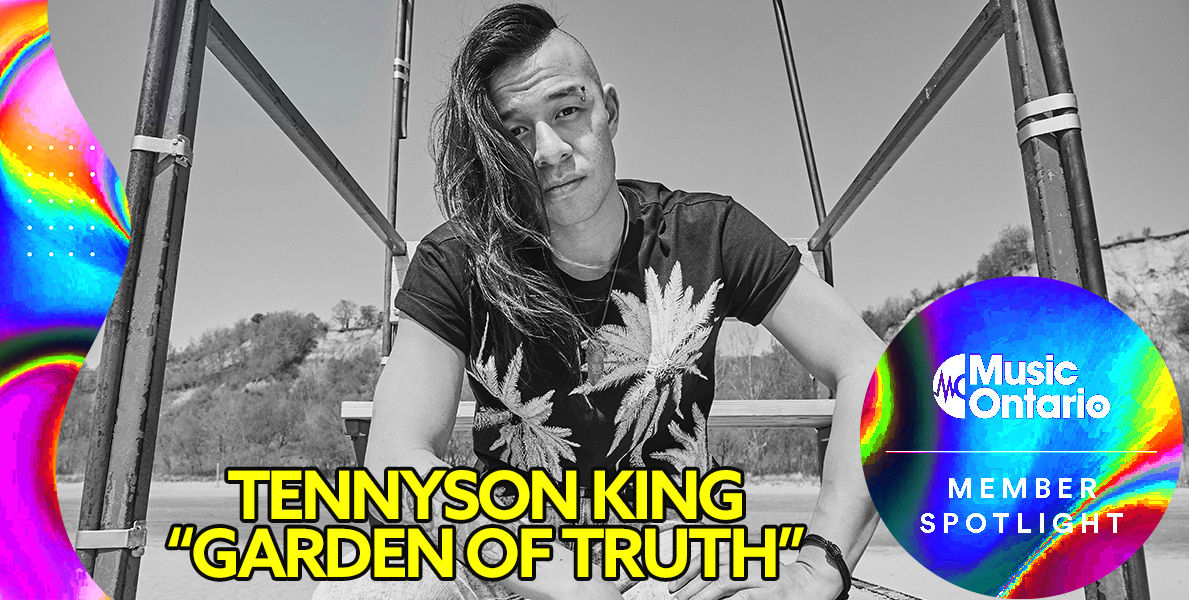 Posted on

December 15, 2020
Tennyson King's dreamy, hazy and melodic folk sensibility is the soothing balm we could all use right now; mellifluous vocals assure us everything will be okay, and Tennyson's warm delivery makes it so. New to the MO fam, Tennyson has already participated in a number of our programs, so we're excited to see this track released, with its stunningly illustrated and animated accompanying video!

ABOUT TENNYSON KING:
Tennyson King is an indie folk musician born in Hong Kong and raised in Canada. The nomadic singer songwriter brings an irresistible personality to listeners worldwide, capturing audiences with his reverberant and earthy folk-rock sounds as well as his intimate and humorous brand of lyrical storytelling. On his latest singles "Wild Rose" & "Garden Of Truth" King's sound has reached a watershed moment where it does more than just impress with its indie-folk sensibilities. Interspersed with dashes of shimmering pop textures and traces of sun-soaked psychedelia, is this sense of raw and artistic honesty. His love for 'life on the road' have brought him on tours in Australia, Canada, Hong Kong, China, South East Asia and Brasil. Tennyson King has gone from his humble beginnings to blossom into one of 2020's independent movers and shakers.
A BIT MORE ABOUT THE GARDEN OF TRUTH…
Garden Of Truth – Single released: Nov 12 2020
Music Video released: Nov 19 2020
Who was involved in bringing Garden of Truth to life?
Songwriters: Tennyson King & Daniel Rougeau
Mixed at: Threshold Recording Studio – Hamilton, ON
Mastered at: Lacquer Channel Mastering – Toronto, ON
Music Video: Directed by Cesar Barbosa & Hot Point Pictures (@hotpointpictures)

Highlights and challenges from the process/experience
I recorded Garden Of Truth all from home with a minimal home studio set-up. There were definitely some challenges in getting the right sound and working with the limited gear I had. However, having a good amount of time and not having to think about playing shows really allowed me to focus on writing and recording. My co-writer Daniel Rougeau sent ideas back and forth and he recorded his guitar parts from his home as well. The ideas for the song and music video all came so naturally. I told the video director Cesar Barbosa my idea for the music video and he immediately had inspiration for the storyboard. Considering the times we are in, it was wonderful to create and finish such a wonderfully collaborative and creative project.
https://www.facebook.com/tennysonkingmusic

https://www.instagram.com/tennysonking/

https://www.youtube.com/tennysonking

https://open.spotify.com/artist/3IGKryNdVfX5lbqpVI...

https://fanlink.to/gardenoftruth
If you're a MusicOntario member, get in touch with Sam Rayner to find out how to apply to be featured!