King Cardiac - MusicOntario Member Spotlight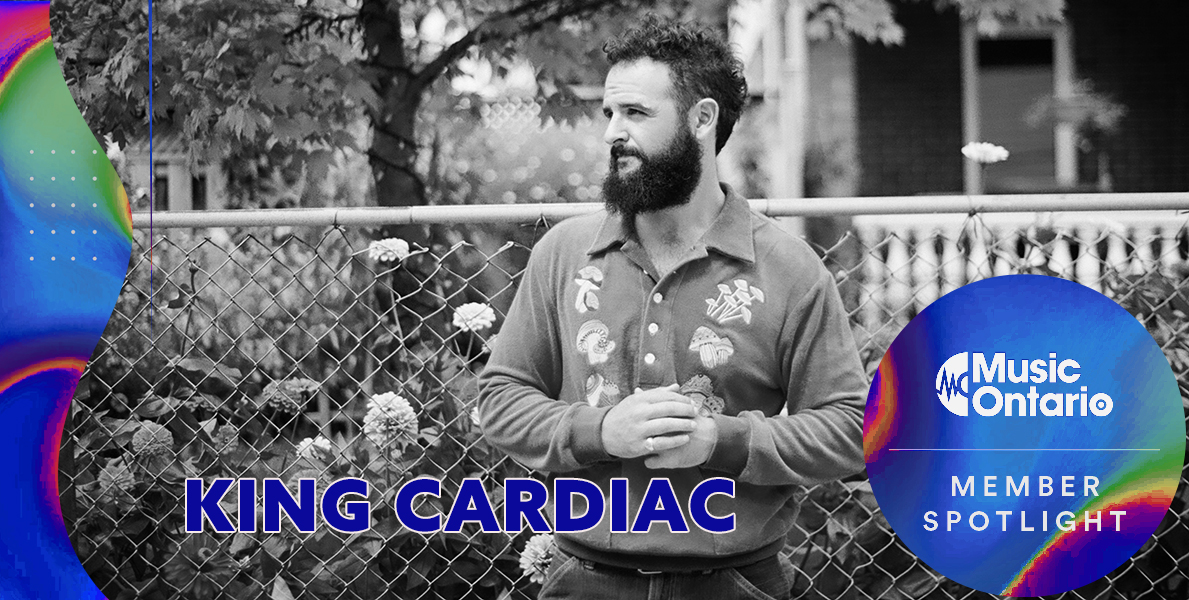 Posted on

February 2, 2021
It's been a spell since we had Gabriel DeSantis on this side of the pond, joining MusicOntario for showcases at Folk Music Ontario, and the 2015 Pan Am Games in Toronto, but now that he's home from the UK and fronting King Cardiac, we're stoked share loads of new music and some dazzling visual content through Gabe's self-produced music videos. You can also check King Cardiac out at Folk Alliance's 2021 virtual conference, Folk Unlocked, where they will be on the Ontario & Friends Showcase presented by us and our pals at CIMA.
ABOUT KING CARDIAC
King Cardiac sees frontman Gabriel DeSantis and members of Toronto's Heavyweights Brass Band (Paul Metcalfe, Tom Richards, Sam Petite, Lowell Whitty and Alan Zemaitis) exploring matters of the heart through heavy soul and brooding R&B.
After living in London, UK for the last two years and touring his solo set throughout Europe, DeSantis returned to Toronto with a fresh ear and new inspiration.
King Cardiac is set to release their debut album in the spring of 2021. The majority of the material for the record was written by DeSantis while living aboard the 57 foot narrowboat he shared with his partner on the London canals.
MORE ABOUT THE UPCOMING RECORD

The record, "Bloodlines," was recorded at The Rooster Studio in Toronto with engineer Don Kerr (Bahamas, Ron Sexsmith) at The Helm.
Bloodlines was produced by DeSantis and Kerr and mastered by Grammy nominee and Juno and Polaris Prize winner, Philip Shaw Bova (Feist, Lido Piementa, Andy Shauf).
The second single off the record, "Amsterdam," premiered on CBC's q with Tom Power in January 2021.
MUSIC VIDEOS
Because the pandemic has made live performance an impossibility at the moment, and frustrated with the limitations of live-streamed shows, DeSantis took the plunge into diy filmmaking with the goal of making compelling images to accompany the band's music.
"It's hard to connect with people right now, so the idea is that if we put the same creative energy into the music videos as the songs themselves, we can bring them to life and engage people on a whole
different level. It's not an adequate replacement for live performance but the hope is that it can get us through until we can get back on stage."
King Cardiac has released two singles/music videos off of Bloodlines so far.
"When It Burns to the Ground" sees the band lamenting some of what ails the modern world with tongue firmly planted in cheek. The accompanying music video is a colourful, satirical exploration of some contemporary woes.
While "Amsterdam," recounts the colourful shift in perspective that can only be provided by a psychedelic wandering through an unfamiliar city. The video is equally kaleidoscopic and crosses the line into playful absurdity as DeSantis finds himself in a city-wide dance off with himself.
There will be one more music video released prior to the full album launch in late spring 2021.
In the meantime, the band will be showcasing at their first Folk Alliance International later this month.
Amsterdam:

When It Burns to the Ground:


https://www.kingcardiac.com
https://www.instagram.com/kingcardiac/
https://twitter.com/kingcardiac/

If you're a MusicOntario member, get in touch with Sam Rayner to find out how to apply to be featured!