STACEY's "Saturn Return" - MusicOntario Member Spotlight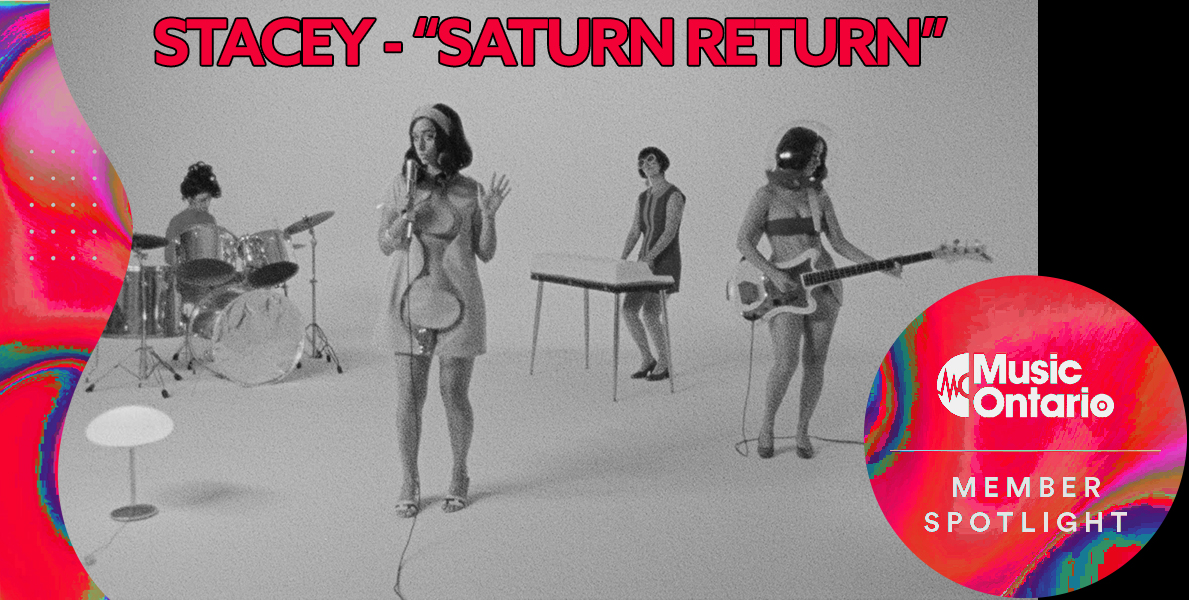 Posted on

August 17, 2021
Sultry, dreamy, and hazily nostalgic have been some of the hallmarks of STACEY's signature sound, but make no mistake - Saturn Return is more of a grand arrival. A culmination of the mellifluous songs and vocals that have landed her more than a dozen prominent TV placements, Saturn Return reveals a powerful claiming of her artistic prowess and vision, aesthetically, sonically, and lyrically. This record is an opus, and we've got a feeling it's just the beginning for STACEY!
ABOUT STACEY:
A romantic for the apocalypse generation, STACEY crystallizes the nostalgic longing of golden age pop records into lyrical refractions for the twenty-first century. Cruising from 60's psychedelic day-trips to glossy 70's daydreams, STACEY's velvet textures have received glowing press from the likes of American Songwriter, Clash Magazine, WONDERLAND, Refinery 29, NOW Magazine, Ones To Watch, and FLARE, while her iconic floral live presence has led her to share stages with Charlotte Day Wilson, Tamino and Cameron Avery (of Tame Impala), and appear on multiple Canadian national TV shows (Global Morning, CTV Your Morning), international showcases in New York & LA (It's A School Night at the Bardot), and two back-to-back sold out sets at Toronto's Royal Ontario Museum for the Christian Dior: 70th Anniversary Exhibit in 2019. Her songs have soundtracked over 15 different TV programs including Lucifer, Orphan Black, and Degrassi and have amassed over 5 million streams on Spotify. STACEY currently splits her time between Toronto and Los Angeles and just released her debut full length, Saturn Return (May 21, 2021).
A BIT MORE ABOUT THE FEATURED PROJECT/HIGHLIGHT…
"Saturn Return" (a time of aligning with one's true path) is STACEY's retro-celestial debut album. Cruising from 60s psychedelic day trips to glossy 70s daydreams, STACEY crystallizes the nostalgic longing of golden age pop records into lyrical refractions for the modern era.
In times of stress, humans are increasingly drawn to the esoteric. In the aftermath of the great conjunction between Jupiter and Saturn at the tail end of 2020, STACEY is hosting a perpetual pool party in an Airbnb'd L.A. bungalow, socially distanced by both time and space as guests just miss each other under amber tinted starlight.
The songwriter from a few blocks away shows up with D.M.T. An alluring friend coyly suggests renting a hot air balloon. The cushions sink and rise as luxuriously for rich strangers as for lovers with nothing left to lose. The latest crisis blurs with the last. The Wurlitzer hums. Life is strange despite and because of its sly pleasures.
A sensible Taurus born at a millennium's turn to a universe embroiled in Valley of the Dolls level chaos, STACEY's attraction to the Baroque (Kissed a Friend's majestic harp and surprise string swells) and the Bohemian (One Woman's guitarmonies) betray her hard-shelled sensitivity (Cancer Rising) and the loneliness that lingers over a lifelong yearning for freedom (Aquarius Moon). Wishing to be far away is a natural side effect of gravity keeping the infinite out of reach. Surrender to the thrall of STACEY's orbit, there's an empty chaise lounge by the pool.

(Photo by Billie Black)
Release date for, and any other key info about the project: May 21, 2021
Personnel involved: Tons of Canadian indie-darlings and household names! Saturn Return producers included James Younger and Brandon Wolfe Scott of Yukon Blonde, Derek Hoffman, and Cameron Bright of Babygirl, and Andrew Lappin. Juno-winner Jason Dufour mixed the album and Elisa Pansaeng mastered it! Hannah Kim aka Luna Li also contributed additional production (strings, mellotron, bass) to Kissed a Friend, and E.J. Smith plays guitar on There Will Always Be Lovers.

(Photo by Mikayla Miller)
Highlights and challenges from the process/experience: The album was about 75% finished when COVID hit, so a handful of the work had to be done remotely. Luckily my various collaborators and I were able to figure it out. They have their own studios and we'd send things back and forth. Derek and I had a few livestream sessions too that worked well.
Prior to that, the album took about 4 years to make. I wrote and scrapped a few batches of songs before the direction started to feel right. Production wise, some songs fell into place quickly and some took a lot of work and had many versions. For example, Kissed a Friend is one live take; once Hannah sent over her bass, mellotron and strings, and my friend Jackie sent the harp, it was done and I loved it. The instrumentation fell together so easily - it's made of everyone's first takes. Good Feeling on the other hand went through about 8 versions. I struggled with it a bit because the structure of it is very pop. I love pop music but I wanted to make sure it didn't sound cookie cutter while still honouring it's pop sensibilities.
(Photo by Mikayla Miller)
Anything else you want the world to know about this work: This album sounds lush and cohesive thanks to the consistent creatives at the end of the creation train, but in reality the process was scrappy. It was recorded in all different places and spaces; some in fancy studios, some in my bedroom, and everywhere in between. At times, instrumentation came via email from some contributors I've yet to meet in person due to COVID.
All of the music videos are DIY as well. I never had more than 4 people on set (even pre-COVID) and the DMT video was shot on my iPhone 7. I was lucky enough to receive funding from FACTOR and the Ontario Arts Council in support of the project, for which I am extremely grateful. Otherwise, I am a fully independent artist at this time.

Strange (But I Like It) BTS music video
DMT Music Video
Listen to the whole album here https://ffm.to/saturnreturn, and stay in touch with STACEY through socials!
https://www.instagram.com/staceymusic/
https://twitter.com/STACEYmusics
If you're a MusicOntario member, get in touch with Sam Rayner to find out how to apply to be featured