MusicOntario Presents The 2018 Canadian Songwriter Challenge: Hip Hop Edition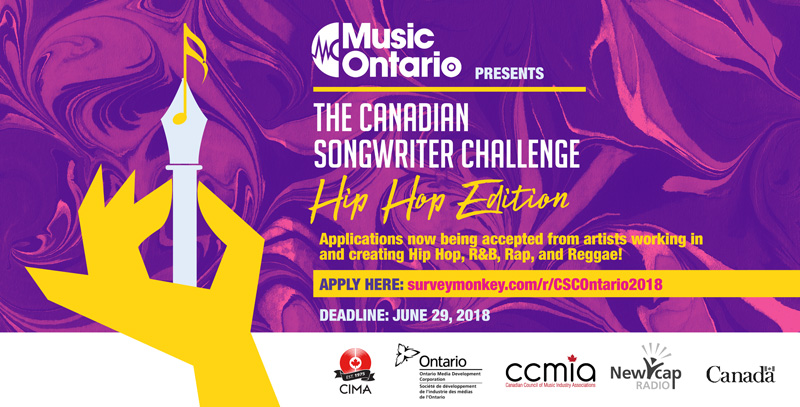 When

Tue 21st - Thu 23rd August 2018

Where

Sandbox Studios & ildsjel collective

Tagged as
MUSICONTARIO PRESENTS: THE 2018 CANADIAN SONGWRITER CHALLENGE HIP HOP EDITION
August 21-23, 2018 – Toronto, ON
Welcome to the fourth annual Ontario edition of the Canadian Songwriter Challenge, in partnership with the Canadian Council of Music Industry Associations (CCMIA) and Bell Media! The Canadian Songwriter Challenge invites Music Industry Associations from each province to program unique songwriting retreats to develop local writers and their skills.
Each year, the CSC hosts a group of emerging songwriters and pairs them with experienced mentors to co-write and record demos, participate in workshops on the business of music, and network and build relationships over the course of 2-5 days.
This year's Challenge will shine a spotlight on Ontario's Hip Hop, Rap, Reggae, R&B, and Soul creators! If you write, produce and/or perform music within those genres or related sub-genres, this opportunity is for you!
Past mentors include Adrian X, Gavin Brown, Liz Rodrigues, Robyn Dell'Unto, Donovan Woods, Nathan Ferraro, Mike Wise, Bill Bell, Shobha, Casey Marshall and Rob Wells.
Keep Up To Date