MusicOntario @ Reeperbahn 2022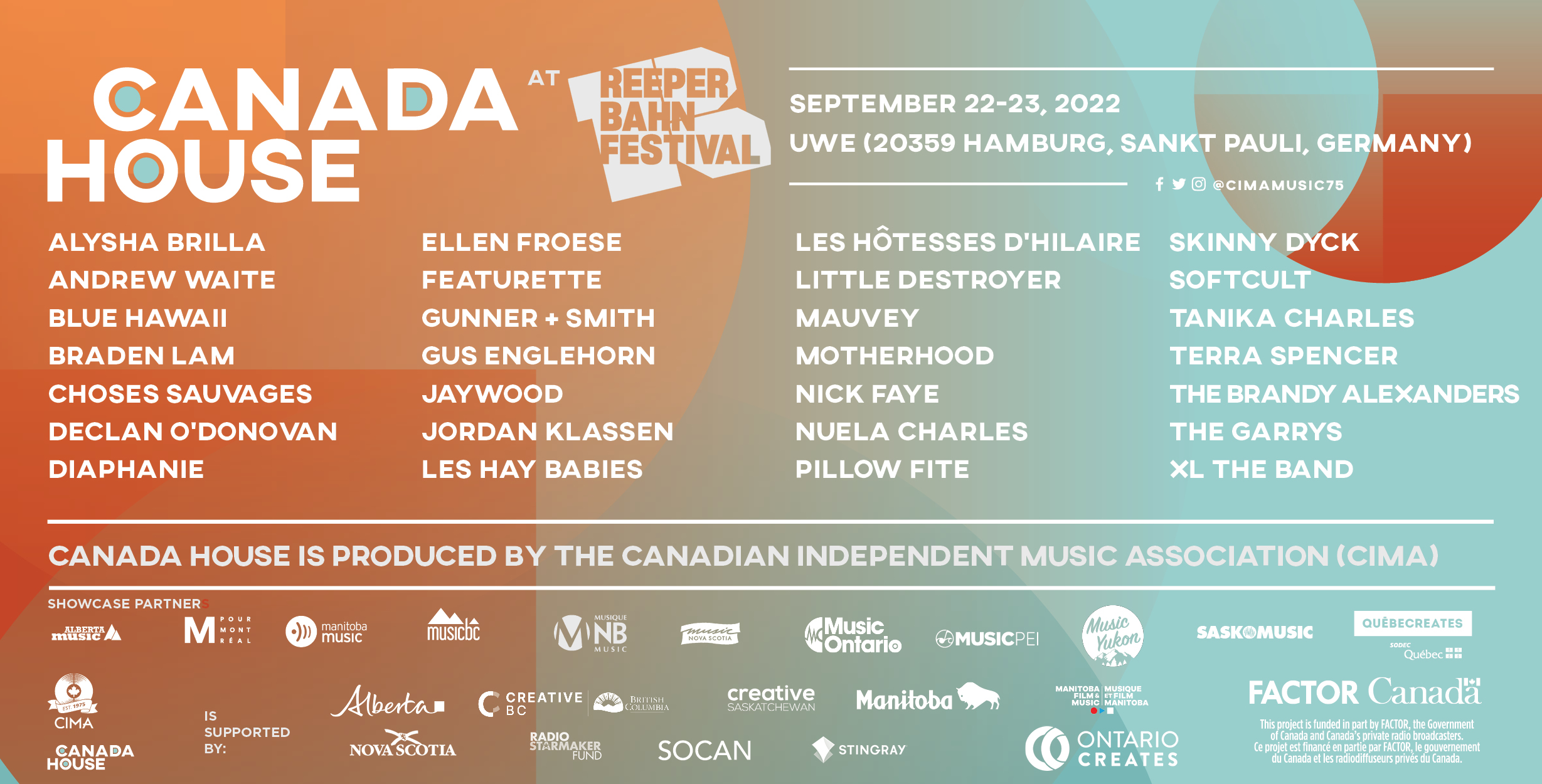 When

Tue 20th - Sat 24th September 2022

Where

Berlin + Hamburg, Germany
Tanika Charles (Unique Applause)
MusicOntario is thrilled to be heading back to Germany for our sixth Reeperbahn Festival this September 2022 without partners at Ontario Creates!
This is a competitive opportunity to access the fourth largest music market in the world, according to IFPI's 2022 Global Music Report on the state of the industry. Revenues in Europe rose by 15.4% in 2021, maintaining its position as the world's second largest region for recorded music revenues and accounting for for 30.1% of the global market. Germany, remains the second largest market in Europe, with its 2021 revenue growth clocking in at 12.6%.
Reeperbahn Festival attracting thousands of artists and music industry professionals from across the globe to Hamburg for four days of music, professional development, art, and more. To learn more about Reeperbahn, click here.
We're stoked to be part of this year's lineup of 28 artists from nine provinces and territories in Canada, bringing along five Ontario-based performers.
When: Thursday, September 22 & Friday, September 23; 11am - 1am
Where: Uwe (formerly Kukuun).
Alysha Brilla – Featurette – Softcult - Tanika Charles – The Brandy Alexanders
ALYSHA BRILLA (artist)
FEATURETTE (Daytripper Songs)
Him, a drummer on the lookout for someone to help him write guitar parts. Her, a trained opera singer who coincidentally knows how to play guitar and keyboard. When Jon Fedorsen and Lexie Jay serendipitously meet at a music summer camp, after their first performance it immediately becomes clear that the two would have to work together. First, the duo known as Featurette are active in genres like folk or indie, but they quickly shift toward highly polished and shimmering electropop. "Neither of us could really play the guitar that well, so it made sense to include keyboards and drum machines", Lexie once said in an interview. Looking back, it was a good decision, because the futuristic tenor of tracks like "White Rabbit" or "The Blame" shows exactly what Featurette evidently do best and what pop music has needed for years – either way, they couldn't sound more contemporary if they tried.
https://www.facebook.com/featurettemusic/
https://www.instagram.com/featurettemusic/
SOFTCULT (Mutie Productions)
"We feel a responsibility – almost a desperation – to change things before our time is over."
- Softcult (Kerrang! Magazine April 2022)
Softcult is an alternative indie-rock duo comprised of twins Mercedes Arn-Horn (She/Her) (Vocals/Guitar) and Phoenix Arn-Horn (They/Them) (Vocals/Drums) from Kitchener, Ontario, Canada.
Softcult is a band with a message. PRO: feminism, social activism, creative freedom, self empowerment, gender neutrality. ANTI: sexism, racism, homophobia, transphobia, patriarchy.
Taking inspiration from the '90s Riot Grrrl movement both musically and ethically, Softcult is quickly gaining fans by building a safe and inclusive music community, and gathering major industry supporters with the DIY approach to their music, visuals, art, and most importantly, with their message.
www.instagram.com/softcultband/
www.facebook.com/softcultband/
www.twitter.com/softcultband
www.tiktok.com/@softcultband
https://www.softcult.band/
TANIKA CHARLES (Unique Applause)
Toronto-based 2x Juno Award nominee and Soul music powerhouse Tanika Charles has slowly but surely inserted herself as a staple of the genre both at home and abroad. Her music revels in honesty and attitude, her live show is high energy and endearing, and she continues to win audiences over one album, one stream, and one encore at a time. Long-time fans will recall her earliest recordings proclaimed that if she could, she would spread her wings and fly. And now this Night Butterfly has proven she can soar.

In 2016 Tanika independently released her debut album Soul Run, which would be re-released internationally through the Milan-based label Record Kicks in 2017. In 2019 she followed that up with the album The Gumption featuring songs like "Tell Me Something" which quickly garnered over a million Spotify streams. Both albums were longlisted for the Polaris Music Prize and were nominated for the Juno Awards R&B/Soul Recording of the Year in 2018 and 2020. Tanika was honoured to be awarded the inaugural Polaris Prize artist-in-residence for 2020 at the Studio Bell National Music Centre in Calgary.
Tanika's latest album is Papillon de Nuit: The Night Butterfly. Recorded in and out of pandemic lockdowns, it was released on April 8th, 2022 through Record Kicks internationally and Tanika's own label Unique Applause in Canada. Papillon again follows Tanika's formula of marrying classic soul influences with modern sensibilities and features the songs "Frustrated", "Million Ways", and the disco-infused lead single "Different Morning" featuring Toronto rapper DijahSB. The album received widespread critical acclaim and again earned a Polaris Music Prize long-list nomination.
Tanika has embarked on numerous domestic and international tours since 2017, performing in front of many thousands of fans across a dozen countries. Tanika's live show oscillates between faithful recreations of her studio recordings and revealing influences of rock, gospel and country.
www.instagram.com/tanika_charles
www.facebook.com/TanikaCharlesMusic
www.twitter.com/tanikacharles7
www.youtube.com/c/TanikaCharles
www.tanikacharles.bandcamp.com
www.open.spotify.com/artist/0BYgmolIl2cU1K2XZa7N7I?si=xLARspodQf-4JabYDVH5Xg
www.geo.music.apple.com/us/artist/tanika-charles/475923949?mt=1&app=music
THE BRANDY ALEXANDERS (Gypsy Soul Records)
Somewhere in the expanse between the Dark Side of The Moon and Abbey Road – Psychedelic Rock band, The Brandy Alexanders, take you to a parallel universe. Introspective, and almost existential lyrics are expressed via dream like vocals that weave themselves into a wall of propulsive guitar riffs, textured synths and a bold rhythm section. What started off as an EP, has grown into a 9 track album that was released this past December 10th, 2021, via Gypsy Soul Records. The eponymous debut will take you on the space walk you have been saving up for since 1977. From the first guitar riff in album opener Ceiling Fan, Man, to the 6 minute epic album-closer Space Opus, each song included has an energy and orchestration that would impress fans of The Stones to Tame Impala. Justin Tessier of The Blue Stones writes "The Brandy Alexanders bring a refreshing, honest take to psych rock, and can back it all up live. Live By The Light is a song of the year candidate"
Hailing from Windsor, Ontario, brothers Alex and Daniel Dick began their musical journey in high school. Alex and Daniel started now defunct bands called "Nuclear Sunrise" (2011-2013) and "Takers & Leavers" (2013-2016) before becoming The Brandy Alexanders in 2016. The band takes their name from an unassuming cocktail that got John Lennon and Harry Nilsson ejected from The Troubadour in West Hollywood after a few too many. Alex serves as lead vocalist & guitar, with Daniel on keys / synths. Over the last decade they have slugged it out on stages from their high school talent shows, packing clubs and theatres in Southern Ontario.
The brothers are the creative machine behind the music and lyrics, often writing and demoing most of the parts before bringing the songs to Sean Shepherd (Lead Guitar), Zack Vivier (Bass), and Robbie Cervi (Drums). In 2019 The Brandy Alexanders caught the ear of Renan Yildizdogan (Gypsy Soul Records) at a club show at The Horseshoe Tavern in Toronto, ON, and signed their first record deal.
https://thebrandyalexanders.com/
https://www.facebook.com/thebrandyalexanders
https://www.youtube.com/thebrandyalexanders
https://www.facebook.com/thebrandyalexanders/
https://twitter.com/thebrandyalexs
Keep Up To Date